When you arrive in Los Angeles, they welcome you with a traffic ticket, a fender bender and the middle finger.
Best part about Los Angeles, the weather. What people call a bad day in LA would make a great day in Houston weather wise.
Worst part about Los Angeles, the people. They suck.
On the bright side makes it easier to spot and recognize good people when you meet them.
I was recently yelled at for being a "shitty LA driver", so I guess I must be fitting in.
On a long enough timeline, we all become shitty drivers. Yesterday, I yelled "He's has New Jersey plates!' at a bicyclist who screamed at guy for driving in a bike lane. The bicylist apologized to me. I'm still learning to notice and stop for pedestrians. The no protected left turns is still freaking me out. I also learned the "California Roll" is a survival technique. If you judged people based off traffic, you'd end up hating everyone.
Heads up the guy in the motorized wheel chair with the two rabbits on leashes is faking his disability and can walk.
Los Angeles a bigger pond than Houston. Scratch that, pond is a horrible metaphor. Ponds stand still, get stagnant and fill up with mosquitos. Yeah, pond is a crummy metaphor.
Los Angeles is more like a river. Rivers move, flow and have rapids that change from moment to moment. There's excitement, danger and rocks at every turn! And you're going to get hit those rocks over and over again. There's no two ways around it. Survive or die.
You'll either emerge a better performer up stream or you'll get torn up into a scrap of your former self and washed out to some place far away yet closer to home. My advice, hang on and learn to paddle. You don't have to sell yourself out to do it. Stay strong and you might even find out you're much stronger than you realize. Eventually rivers flow into something larger than itself.
As far as rooommates go, I've hit the jackpot and have some pretty cool roommates and a parking spot in Little Armenia. My roommate Alex Duong is Dallas guy. Any sort of Houston/Dallas Springfield/Shelbyville San Antonio/Austin rivalries get dropped faster than a speeding bullet. Texans are usually happy to see other Texans.  Shout out to my other roomates and Ding Dong Show regulars Eric Carter and Daniel White! Also a shout out to former roommates Rob Louis and Ian Ellis!
"But Al, are you serious? Good people? Los Angeles is full of hacks, two faced liars and back stabbers!"
Quite honestly LA doesn't hold the monopoly on desperation and personal heartbreak. You can get stabbed in the back anywhere for just about anything. I have a nice collection of back wounds from Houston. I figure if I'm going to get stabbed, get stabbed by the best.
Actually on my first day here, I witnessed comic Amir K get a bit of his stolen on a notorious Hack's Instagram. And then in real time I saw Amir's fans speak up and get the notorious joke thief to drop it. That was pretty cool.
"So, have you met any celebrities?"
I've run into everyone from Dane Cook to Charo to Dave Chappelle to Don Barris to Tom Green to Lahna Turner to Marc Maron to Whitney Cummings to Iliza Schlesinger to Roastmaster general Jeffrey Ross to Argus Hamilton. At any given mic, it's an eclectic mix of comics, amatuers, performers and serious multi-hyphenates with serious chops from all over the planet. The general DNA of LA homegrown comedy has performance and song all over it. The stage presence is strong and quite undeniable.
On any given night, you will see everything from living legends to rough drafts of original voices to derelicts and sociopaths with delusions of adequacy. Whether or not you'll ever hear from them in the future remains to be seen, so keep your eyes peeled. You'll recognize them when you see them.
The Comedy Store is everything Marc Maron warns about on his WTF podcast and more. The Store is a combination of artist colony and a mental asylum run by the mental patients. I enjoy it. Being there reminded of the excitement and energy the Houston Laff Stop on West Gray had back in the early 2000's during Mark Babbitt's tenure as manager but times 100!
The Store's history not only predate the Houston legends of Sam Kinison and Bills Hicks but adds another texture to those legends. You can see Sam Kinison's bullet hole and signature on the wall. I also found Bill Hicks' signature along with Scott Kenedy's and Andy Huggin's signature and head shot too.
Stage time is not guaranteed.
The five minutes of average stage time in Houston spoils you. On average it's three minutes of time at most open mics. The farther you are from the city of Los Angeles, the more average stage time you can find. The Valley and Orange County have their own individual comedy scenes with great stages worth catching up.
For me open mic isn't open mic. When I go up in Los Angeles, I spend my stagetime polishing up bits. I work on new bits in the rooms I feel comfortable in like Show Up Go Up Show at the Comedy Store, The Kvetch Room, I mean Kibitz Room at Canter's Deli, and Big Wangs.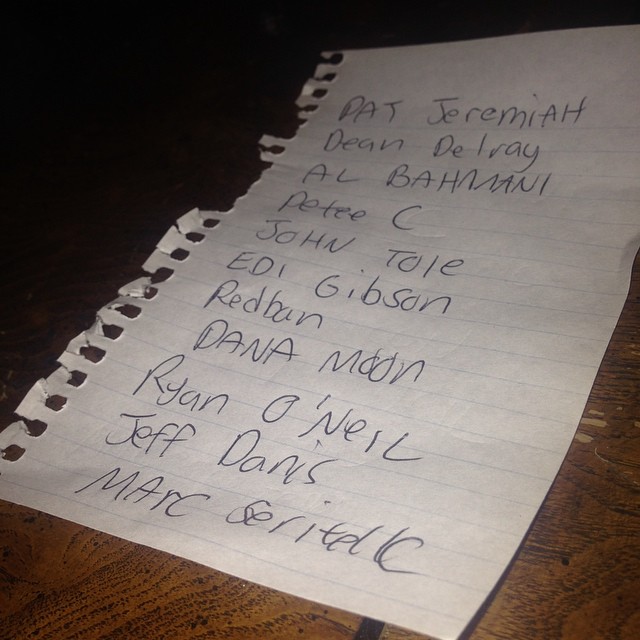 So far I've done everything from open mics to booked shows at the Irvine Improv to a Death Squad show at the Pasadena Ice House with Dean Del Ray to a modern day speakeasy featured on Vice with Rick Overton to Roast Battles where comics verbally rip each other apart to a show hosted by a Dolphin comic accompanied to the music of Avery Pearson.
Hey here I am on the Kill Tony Podcast Episode 105 with Rick Ingraham and Godfrey! I come in at 39 minutes and 52 seconds in. I also tell Godfrey to go fuck himself.
I have no illusions or delusions of adequacy or grandeur. I currently live in a glorified closet space, work twice the hours and make half the amount of money I made in Houston. Quite honestly, I've barely scratched the surface of the what further triumphs and tragedies this city has to offer.
I'm starting over, yet I'm not.
Right now I'm just catching up and enjoying the ride.
—Al