*Names have been changed to protect the delusional.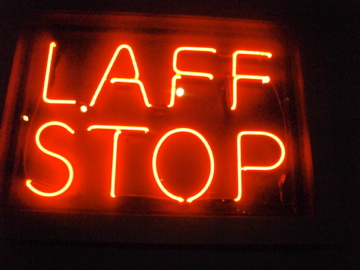 Houston, Texas
The Laff Stop December 10th 2008.
"Someone is humping the stool on stage!",  yells a comic to the outside bar signaling the peanut gallery of characters to run inside and see what's going on.
On a long enough timeline, every piece of furniture in a comedy club will get sexually molested. Both the mic and stool on stage have seen more action in the last few months than all the comics have had their entire lives. Add alcohol with free speech and stool humpings are bound to happen. 
G. Martinez approaches the stage, lines up his crotch up to the bar stool and asks the audience the all important question, "Does this make my dick look small?" .
A few uncomfortable chuckles later, G. rhythmically thrusts and grinds his pelvis on the bar stool like a cat in heat who's meow mix had been dosed with ecstasy.
"Women like it when you fuck them slow!" pearls of wisdom that have been repeated by every drunk who has a story to tell at 2 am in the morning are imparted to the jaded open mic audience.
"Sometimes women like it rough!" G. increases his thrust speed as he grabs the stool and stage dives off into the audience. A few drinks go down with him as he thrashes about in the front row, humping, beating and jumping. He then simulates orgasm thrusting the mic forward from the his hands as it almost hits the audience members and crashes with audio feed back that made ears bleed.
The mic is dented and a few tables and chairs are knocked around.
"Your time is up"
With one minute and a half of his three minutes of glory are left on the clock Scott Garrett , the Laff Stop's manager, cuts off the mic and informs G. Martinez.
J. Fredrick Rhetoric ends ups going on stage early and starts playing a couple of chords of his guitar while a new mic is found.
'You don't go around, break furniture and a two hundred dollar mic!' Scott informs G. Martinez. 
'You don't understand! I'm a misunderstood Comedic Genius!' G. declares before he storms out of the club comedy club.
Later that week both the Laff Stop and Laff Spot receive calls from an 'anonymous source' asking, "When are you going to book that amazing new talent G. Martinez?"