To say J. Fred was intense would be like saying the Rolling Stones were just a garage band. If you met J. Fred, you had a J. Fred story. He was that memorable. Fred stood 6 ft 2 inches tall and larger than life. With an announcer's inflection, Fred boomed instead of speaking and he played a mean six-string.
On stage J. Fred was high energy, subversive, and the perfect way to open a show. Fred crafted one-liners sharper than a mosquito's pecker and played that guitar till he super glued his fingertips to prevent further bleeding. On stage, the song parodies blended seamlessly with one-liners into something that had to be seen to believe.
When I first met him, he was the only comic that left 2001's Houston's Funniest Person contest with an agent's card. He opened for Lewis Black, Mitch Hedberg, Norm MacDonald, Louie Anderson, Lahna Turner, and Ralphie Maye. He was a fixture of both the Houston comedy and music scenes. You'd catch him everywhere from the Improv to the Laff Stop to Last Concert Cafe to Rudyards to Fitzgerald's to the Mucky Duck to Avant Garden to wherever you could find a stage.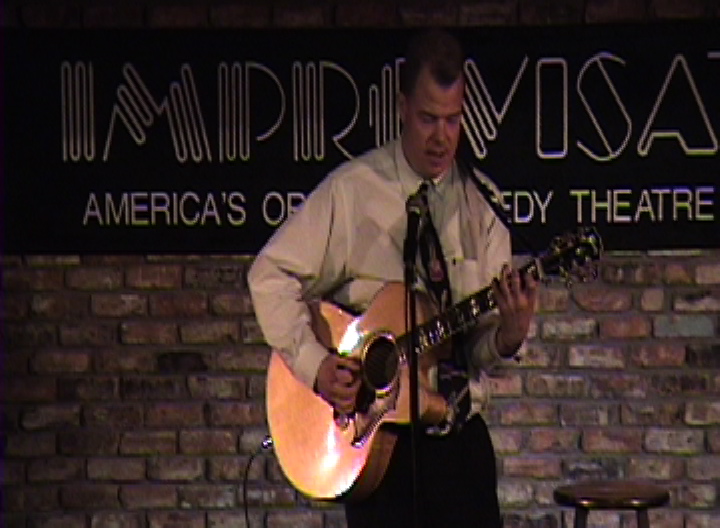 He played the road, taught Comedy Defensive Driving, and also remembered what was it like before the Comedy Boom went bust in the early '90s. He was one of the few comics that started at the Comedy Workshop Annex where Bill Hicks and Sam Kinison started.
He's one of my oldest, nearest, and dearest friends I've made in stand-up. He was the Lenny to my George, the Rick Sanchez to my Bird Person, the Oscar to my Felix. Fred taught boundaries, mostly by stepping all over yours. Whether he was eating your food without asking, speaking so loud your right ear was getting deaf, or waving a spatula at my face angrily. You'd eventually learned to step up back at him when he stepped on you. Sometimes he'd back down, other times not so much. Eventually, things would come to a head and you'd have to have to take a break.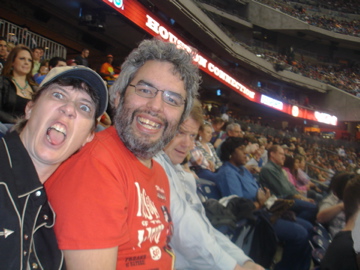 He was far from perfect and would fall into moods and spiral into darker periods of self-destruction. Periods of going for shocks and awe instead of laughs. Playing songs on his head with a mallet. When Fred was in a dark place, he wanted to bring everyone down with him. The applause of the audience and playing his guitar and being with his German Shepherd dog Shephra soothed his soul. He still ruined the illusion of Flashdance for me.
Still, if you needed a helping hand, (or a helping kick or two.) Fred would roll up his sleeves and pitch in. It's still hard to stay angry at someone with a good heart who heralded your name in song. He had songs for us all. When he played you couldn't help but listen.
Occasionally he'd listen to what's on your mind and give some seriously solid advice. He was a voice of wisdom and madness. I still find myself repeating sayings like "Don't expect A work from a D student." "Your emergency is not my fire drill." "Haunted comics are comics who hear ghost laughs that aren't there." "Riot the time is now!" "Quack Quack!"

He loved books and fishing. There were plenty of fish frys and Simpsons marathons. Up until his vision started deteriorating his bookshelf was filled with true crime, horror, and rock and roll biographies. He also tended to lose keys, cell phones, and bicycles. He loved Led Zepplin, Rodney James Dio, Rob Halford, Judas Priest, The first song he played was Raindrops Keep Falling on my Head. He's one of the reasons I have a soft spot for musical comics.
He is survived by his brother Graham, his Methodist minister mom Sister Sarah and the many friends he made performing comedy and music inside and outside the Houston, Texas scene.