On a long enough timeline, we all get heckled. It doesn't matter whether it's a paid gig, a comedy contest or an open mic. Heckling is an occupational hazard in the 'world's greatest job'.
If you're brave or foolish enough to step onto a stage and string together some jokes to a point of view, heckling is inevitable. Like everyone working on their stand-up craft, I take my lumps of abuse. My attitude towards heckling is to learn from it and move forward. What else can one do? Let the heckler win, cry myself to sleep, quit doing comedy and crawl into a tear-drenched fetal position of defeat.
I assumed I experienced heckling in all its craven forms, then life proved me wrong.
I've experience everything from a random punter in the back yelling out 'You suck!' to the misguided patron attempting to 'enhance' the show; from bottles being thrown at me to an internet troll posting that my act is 'rubbish' from a comment card proclaiming, 'A case of herpes is funnier' than me to the disc jockey hosting a comedy contest getting an entire audience to boo in unison.
Saturday night, I head to the local supermarket to buy some fried chicken and coffee. When I get back to my truck, I notice a hand written note on my windshield left for me to read.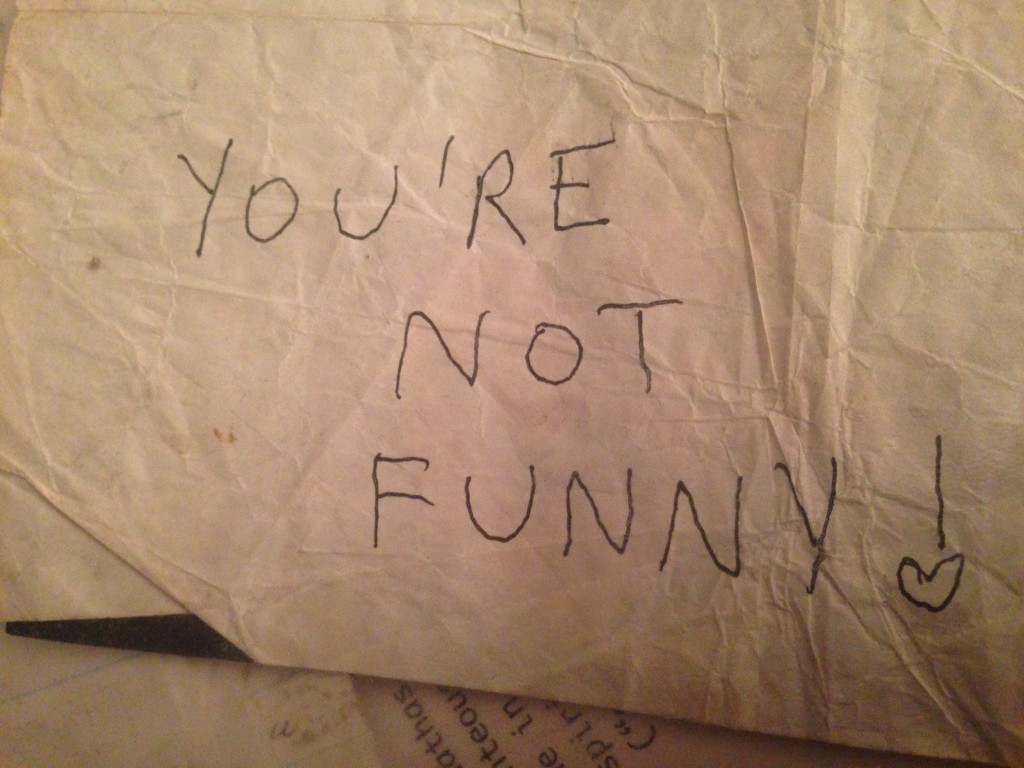 'YOU'RE NOT FUNNY!' proclaims the handwritten note on the back of a receipt with a heart at the end of the exclamation point.
At first I was angry and quite pissed off. Why of all the nerve! I look around and scan the parking lot to see if anyone is watching from afar trying to gauge the impact of their personalised comment.
I flip the receipt over and learn at 11 am they spent $7 for three tacos at El Rey Taqueria, a fast food joint. They spent seven bucks of their own cash for tortillas, cilantro, meat, lettuce and tomatoes. Then I started laughing uncontrollably.
It's hard for me to take anyone that spends seven bucks for three tacos in Houston, the Tex Mex capital of the world, seriously. That's like paying £10 for fish and chips in Cardiff. Not only was my heckler afraid heckling me at a proper venue, they are also afraid of real Tex Mex cooked by real Mexicans/Hondurans/Salvadorans. Seriously, what a cowardly douche bag.
Then my mood changed from laughter to pride. I motivated someone. Forget motivated, I moved someone. I actually moved someone to do something beyond yelling 'Boo!'
They took time out of their lives and noticed my truck. Then they found pen, a scrap of paper and left a personalised handwritten note on my windshield. And they used correct grammar. Great Xerxes' Ghost! I am motivating people to learn how to read and write!
Instead of funneling their hatred onto something as random as my ethnicity, creed or faith, they took the time to hate me for who I am on stage. I feel like I am living Doctor Martin Luther King's dream. They say the opposite of love isn't hate, but indifference. It feels good to be loathed, loathed by cowards.