But this, this I type isn't a dream. For the most part, I'm still surprised I'm still standing more or less.
Here are a few upcoming little victories this month.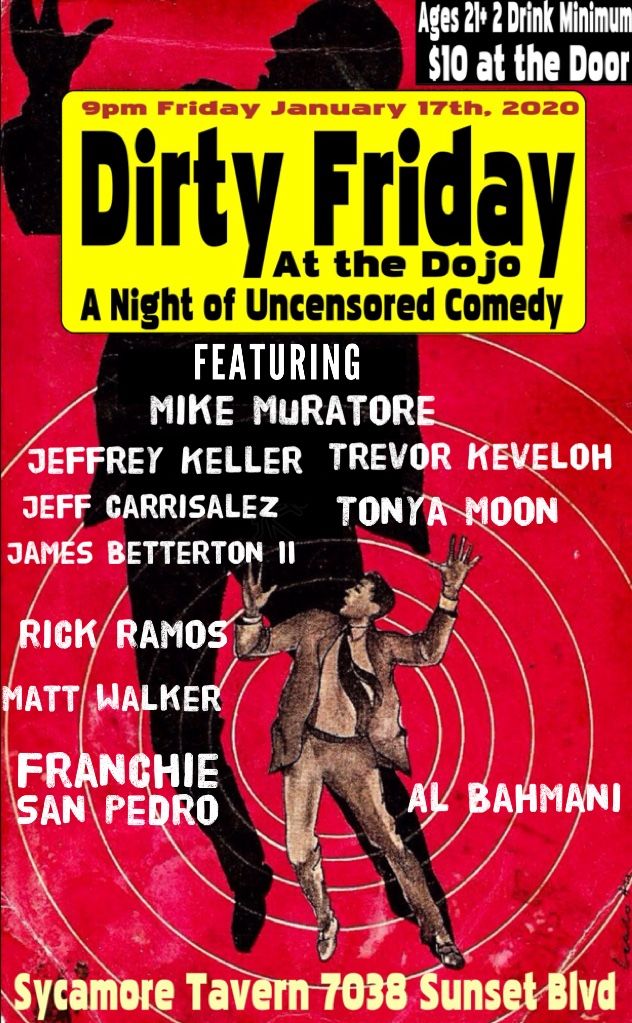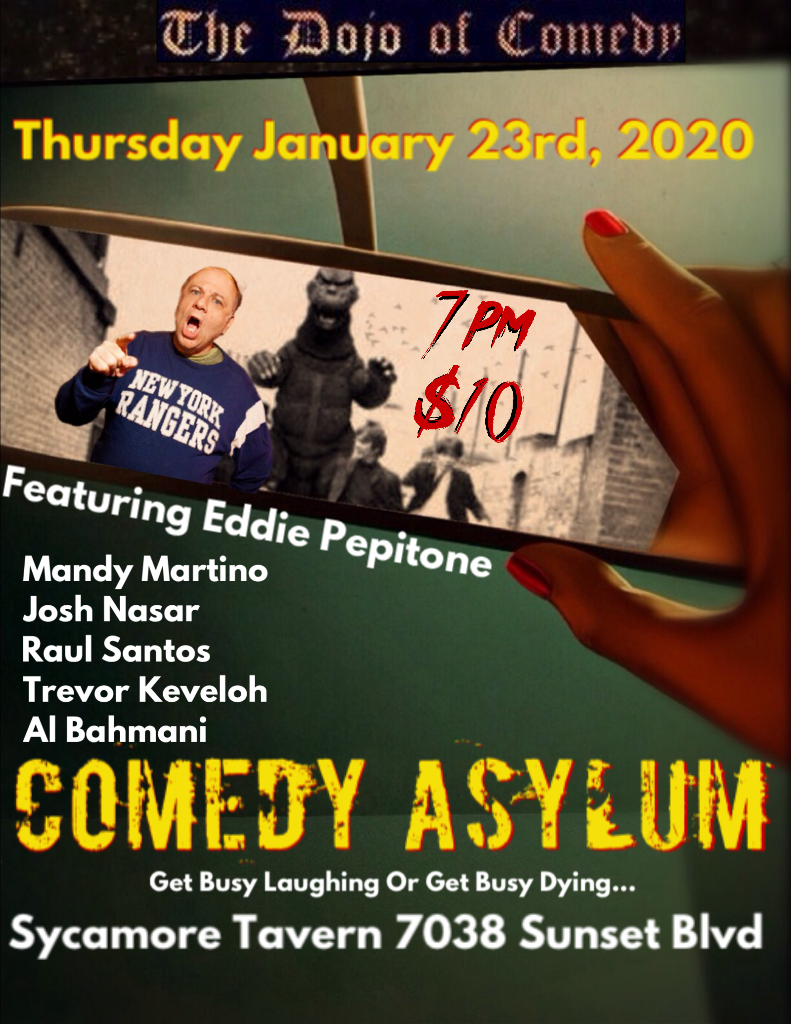 Yes, Eddie Pepitone! If you want tickets get them here!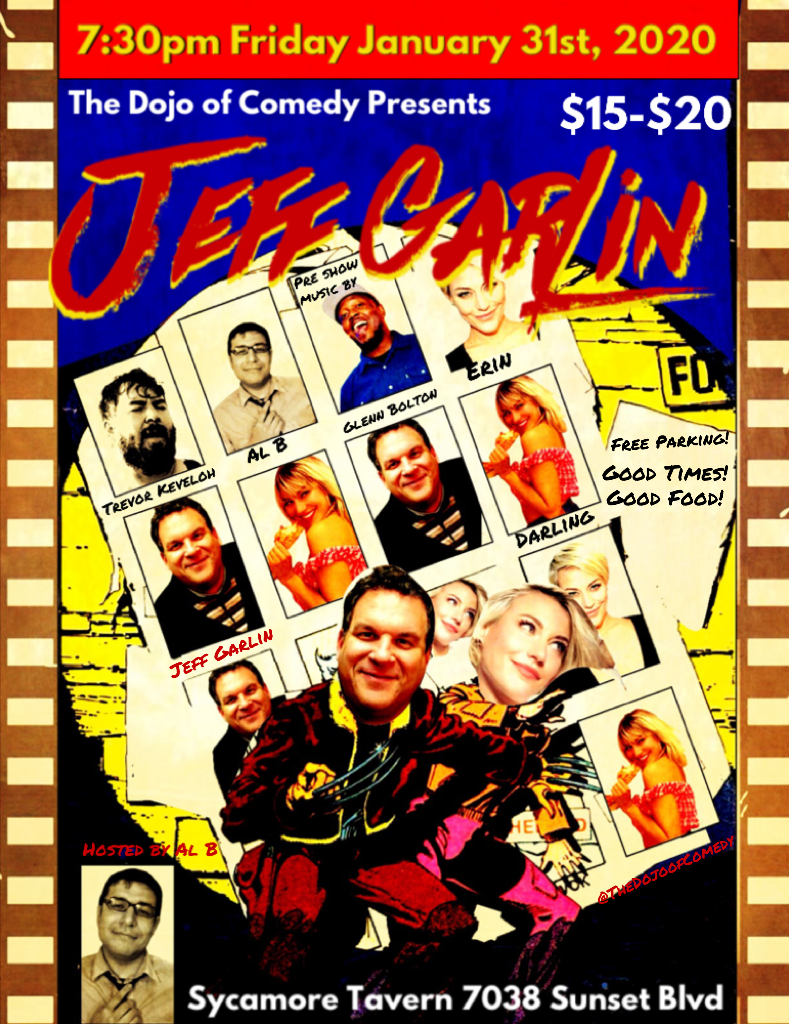 Also you can curb your enthusiasm and catch me working with Jeff Garlin at Sycamore Tavern in Los Angeles. And get your tickets here!
The current Hollywood Shuffle has been a zig-zag path of daily randomness of jumping from one thing to another. I get 'hired' for one thing and find myself doing more than I signed up for. Then again, I signed up for a lot. Still, I find myself replacing lights and mics. Lots of notes, rewordings, rewrites, reedits and remixes.
Here are some cool moments happen here a few of them I'm proud of.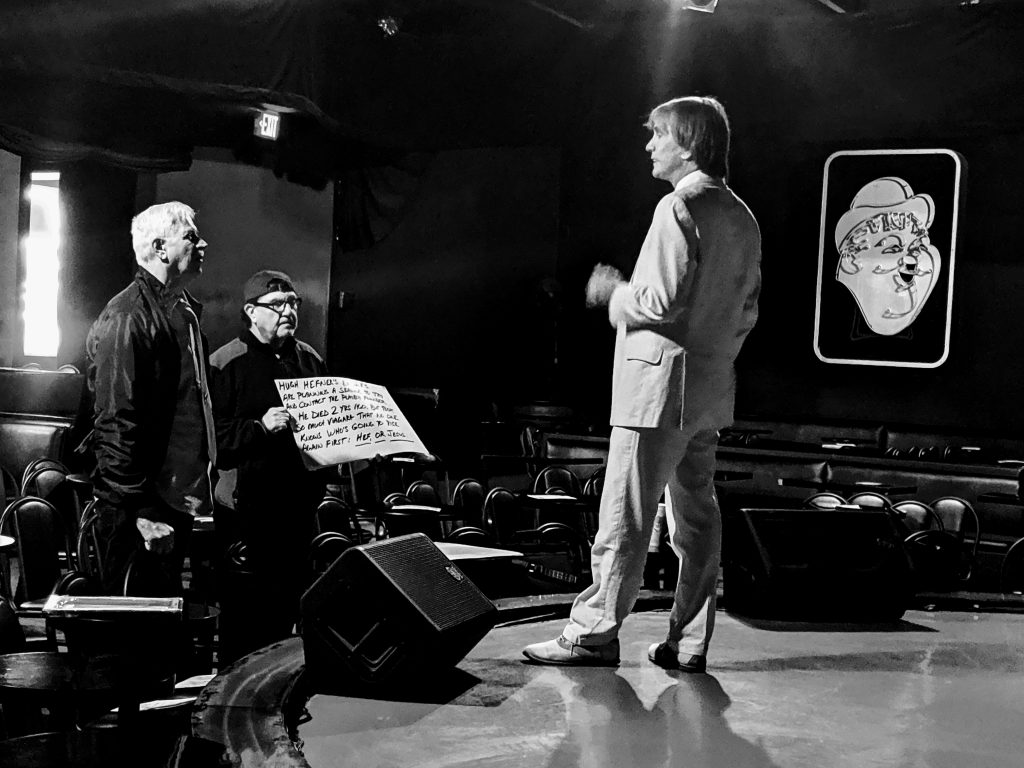 Argus Hamilton prepping jokes for The Comedy Store Tonight with Argus Hamilton with fellow comics Lue Deck and Joey Gaynor on the Comedy Store Main Room a few hours before the club opens its doors.
With more than 40 years in the stand-up game "The Comedy Store Tonight with Argus Hamilton" breaks the late-night mold Johnny Carson perfected and gives it a Comedy Store twist.
And it all starts out off with a well-worn note pad. A news piece evolves into a premise here, a phrase there. From there Argus starts sandwiching them in between tried and true material on the Comedy Store stages. By the Sunday before Emma Leigh Rivera and I are recording promos. Argus's already has 15 solid punch lines written out from premises from the week whittled down to five premises and hours before showtime he's still working on it. He'll change a word here, a phrase there or sometimes he flips a premise. And then Tuesday afternoon in the writers' room he whittles it down some more. The man has had more than 42 years of international audiences of stage experience at the Comedy Store to adapt, sandwich in new jokes in between tried and true. Each week there a lot of folks running around, Starts and restarts, drop-outs and surprise drop-ins. It sincerely feels like it's 1950's live tv.
I'm glad to contribute to a show with the creative likes Brett Erickson, Josh Gibson, Dan Madonia, Mike Schmidt, Joey Gaynor, Sandro Ilocolano, Todd Walker, Lue Deck,  Petey C, and Emma Leigh Rivera. There's a satisfaction seeing some really cool moments happen online and in that studio. And if I'm lucky Argus will use two tags I wrote.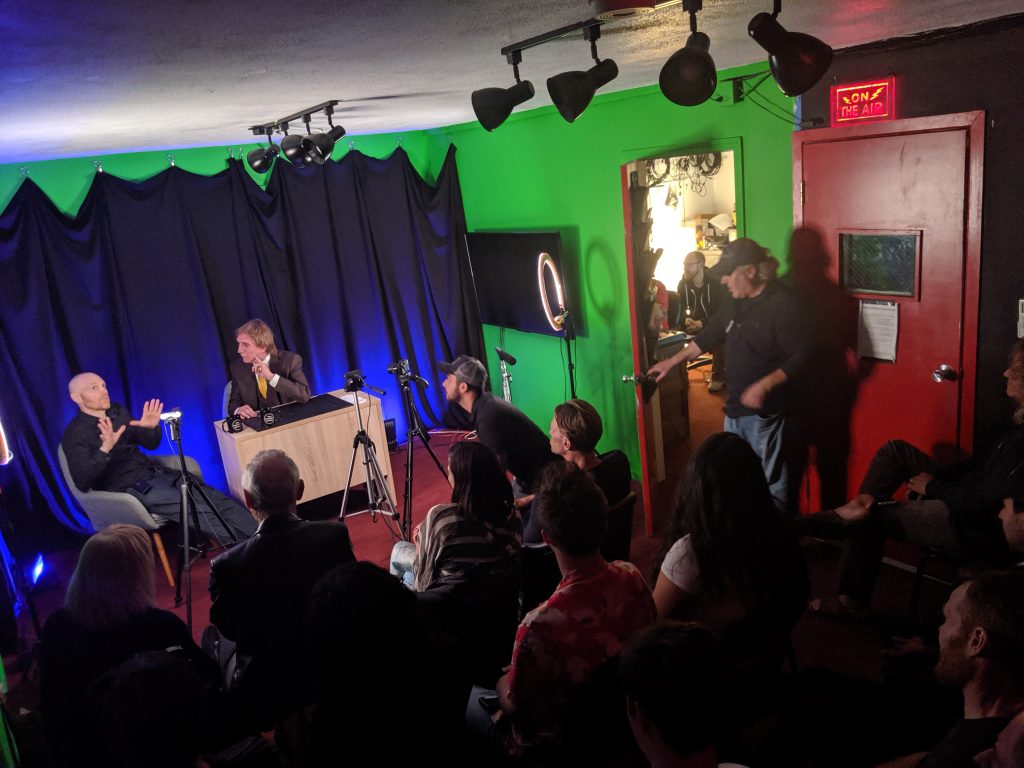 I actually didn't ring in 2020 at The Comedy Store. (Like 2019, 2018 was rung in on what turned out to be the last Show Up Go Up at the Comedy Store Belly Room. Or 2017 when I was hi-fived in the face by Melissa Eslinger or 2016 driving Uber.) There are are no photos because I was busy hosting my own show at Sycamore Tavern. You ain't lived till you seen an entire room sing along with Glenn Bolton… That memory will be one of my favorites.. A perfect way to kick off a show and the new year. Thank you Trevor Keveloh for the opportunity.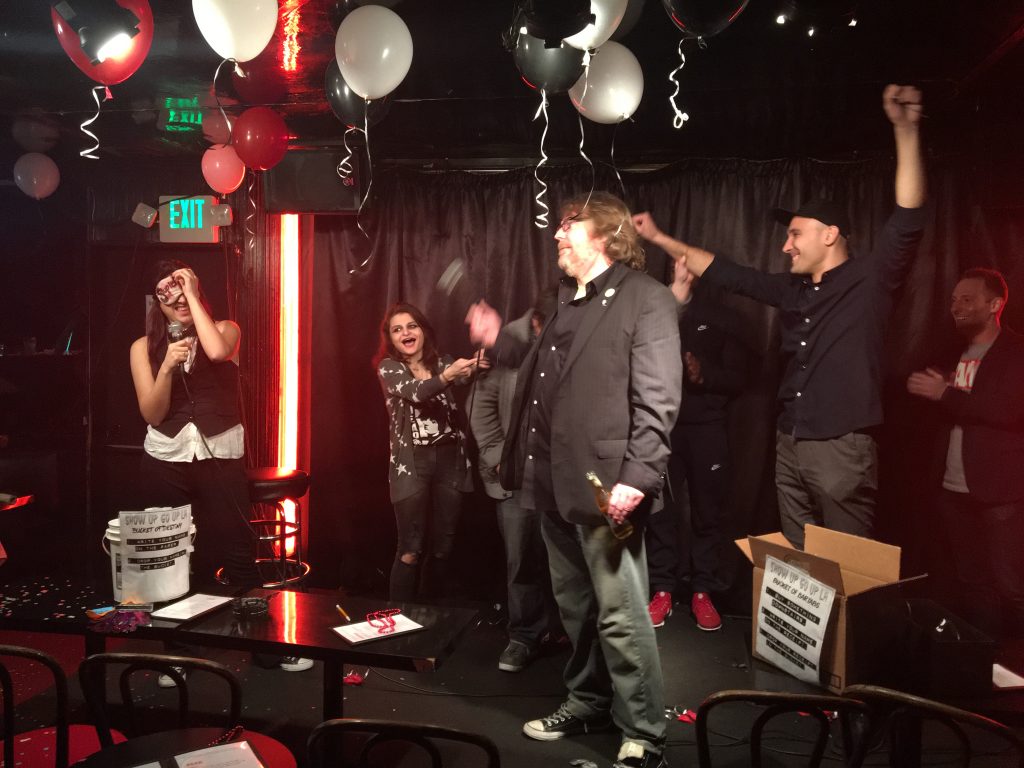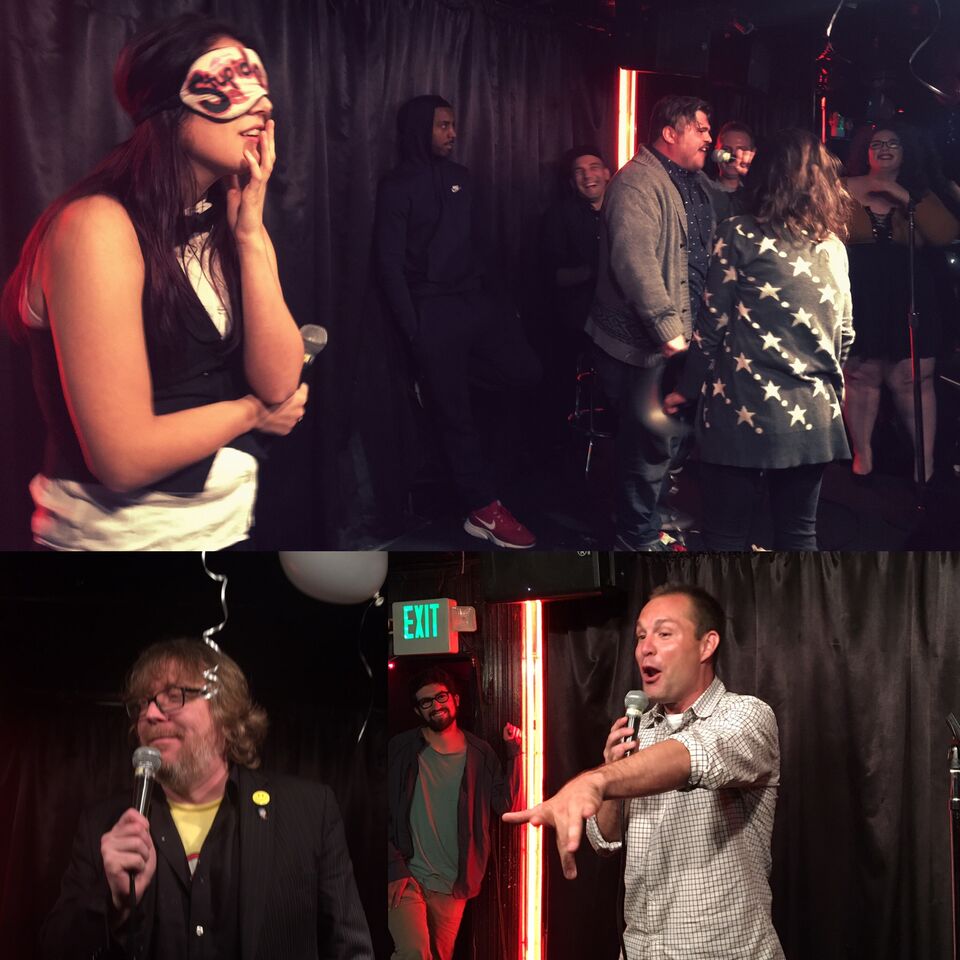 LA is a constant cycle of going from zero to hero and then back to less than zero within 5 minutes. Moments of victory are fleeting and so are the moments of misery.
2018 I had gotten texts from family and friends congratulating me because they saw me on Orville. And right after sending thank yous, I continued to work the dish pit at Flappers. Feeling low, I ran into Sam Tripoli and thought, "Aw Crap! I'm going to get my balls busted." Instead, Sam gave me a pep talk and offered me a spot on a show at Sycamore, Tavern. From there I stuck around, helped out, filled in for hosts and other responsibilities. And then the show ended. And then they decided to do an open mic. So I asked Erik Marino's blessing to resurrect the Show Up Go Up LA. And We're back!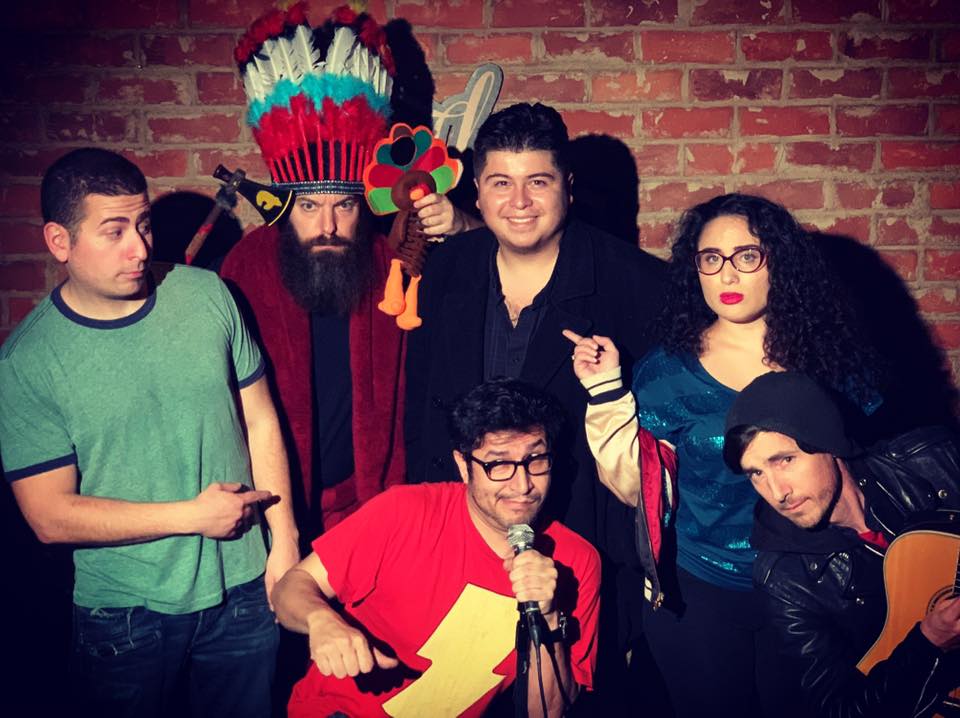 The current roster of Show Up Go Up LA hosts, Mark Stevens, Victor Martinez Jr., Sarah Fatemi with guests Sean Hart and Bird Vs Bear. Currently missing Mia Mars.
Every Monday, I spend at Sycamore lying to myself that this open mike will be the last one. This is it this is the last show. It's drop-ins, drop-outs, fit ins, making good on promises for folks that didn't. Keeping the energy going between performers melting down, bombing on stage, killing and trying to get everyone up. Butt Luckily I got a good crew of coproducers/cohosts to back me up.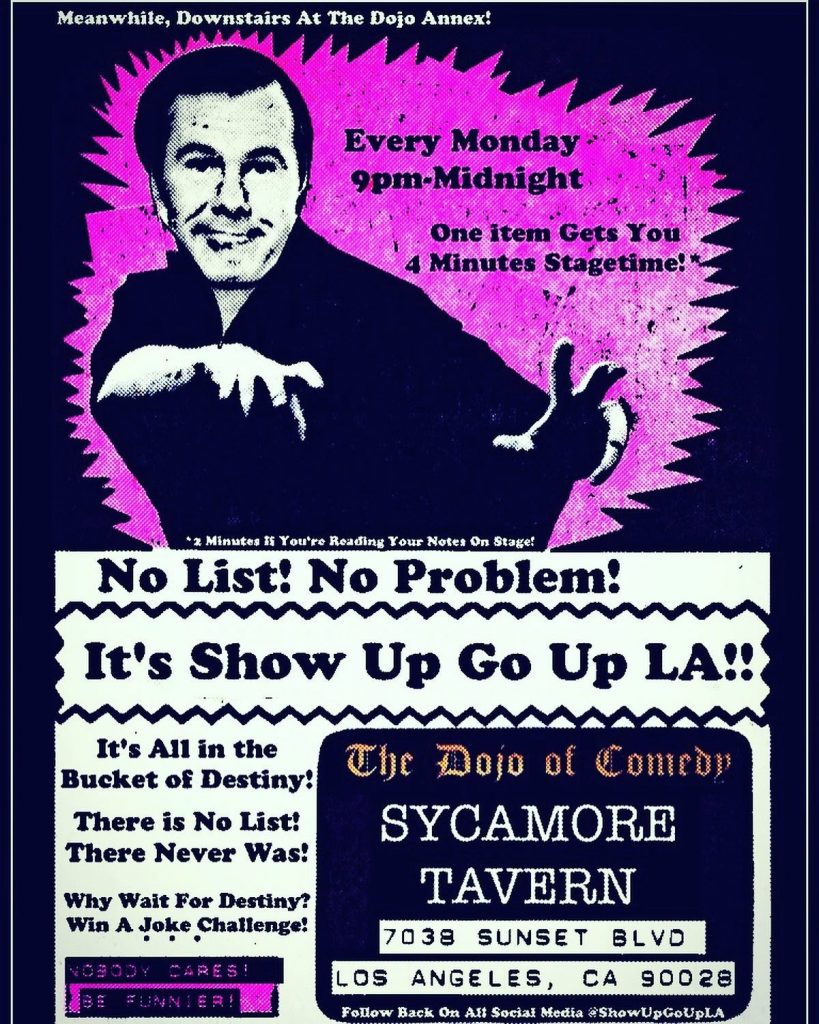 Solving a murder is the new American dream, that's why true crime podcasts are so popular. Most folks are, "Why should I pursue social justice when I can get some real justice."
I'm proud of my research on "Criiime with Rich Slaton and Jon Shefsky". The research is extensive that went behind each episode is a series of rabbit holes in the darkness that is the human condition. I gotta hand it to Rich for maintaining the meticulous research for as long as he did. I'm surprised the stories don't run as long as Dan Carlin's Hardcore History. But Slaton, Shefsky and guest just keep the stories and laughs going. It rude, crude and damn funny stuff.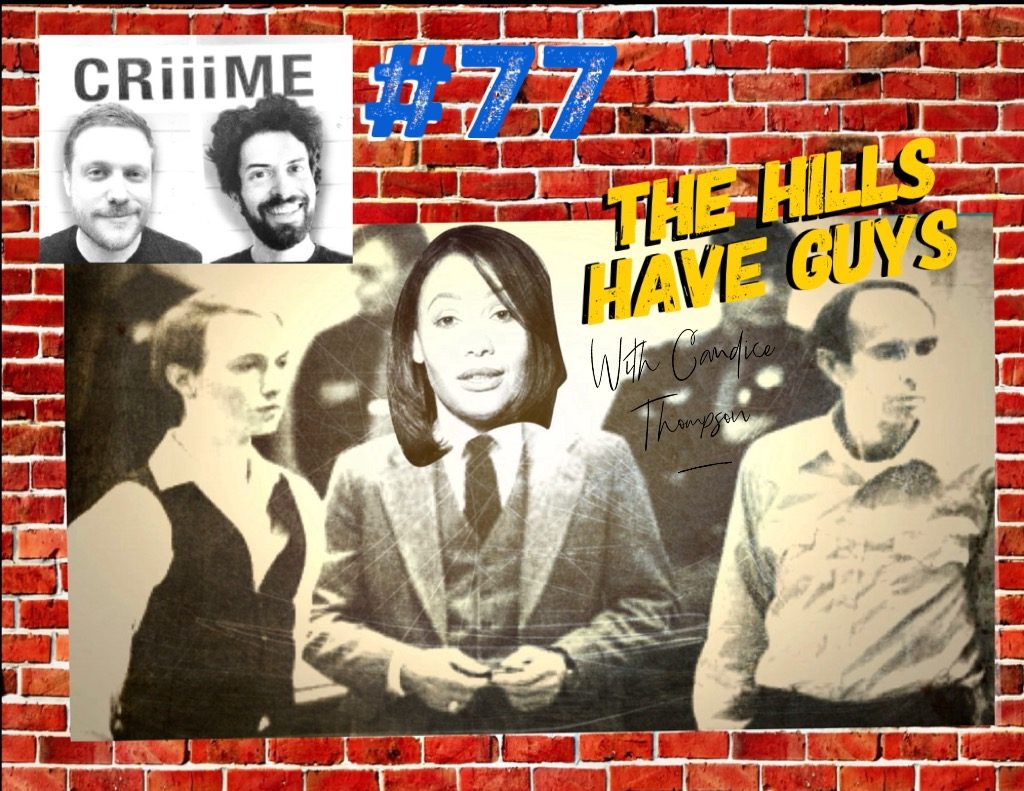 The Hills Have Guys with Candice Thompson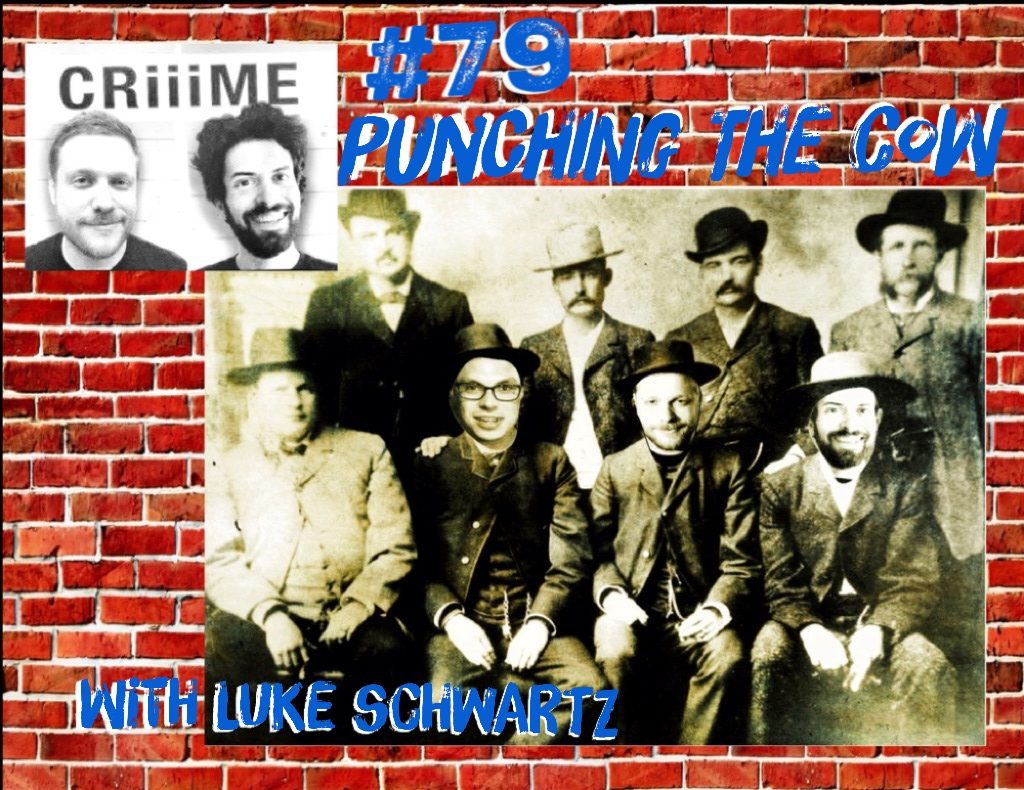 Luke Short the Undertaker's helper, The Pete Best of the Old West.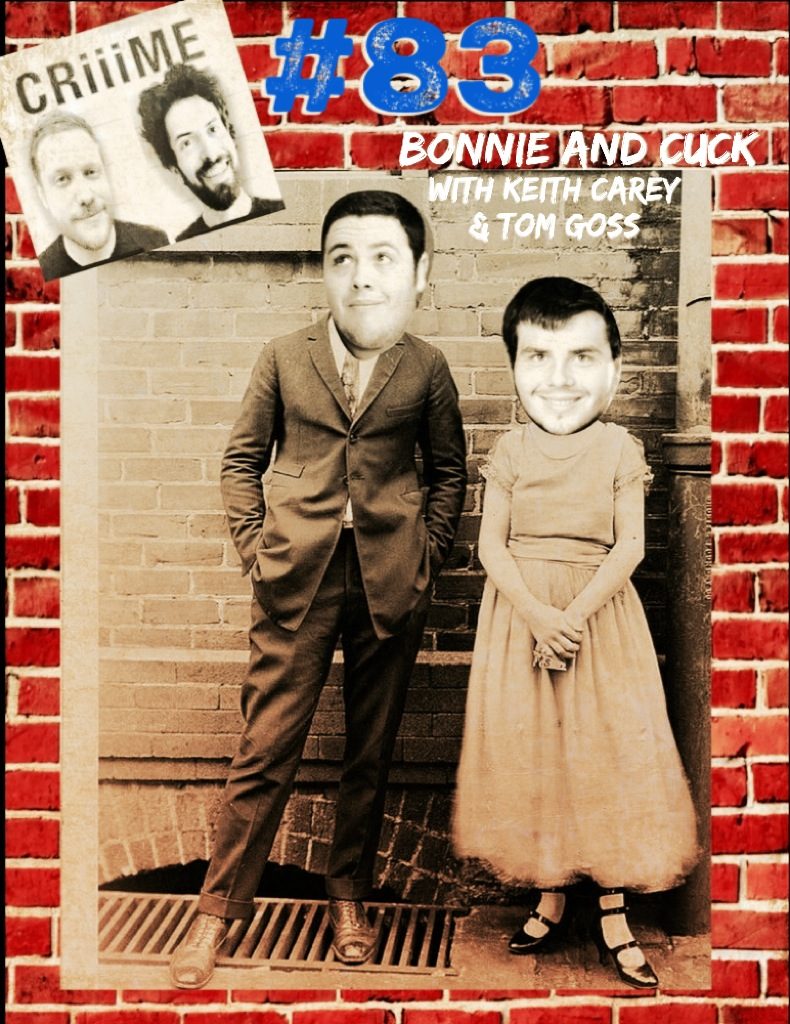 Bonnie and Cuck: Cooneys Never Die! with Keith Carey and Tom Goss
How I just celebrated my first research writing gig. Half price pizza and half-price beer! Woot!
Rich had to take a hiatus from Criiime. You can catch him doing sport commentating for Clash Royale. He even showed up on TBS.
Fantasy House with Jon Shefsky is "HGTV on Acid". Each week Jon "The Only Realtor in Southern California" Jon Shefsky is the blessed guest of some of the funniest people on earth Fantasy Homes. Quite honestly, these are modest homes in modest places. Modest places like in the clouds, a lighthouse on a volcano or the moon or Montana inside Jon Shefsky. There are ghost-butlers, attack chimps, miniature dinosaurs having business meetings, a room on trampolines, zip line, fighting pits and a puppy room. It's silly and sometimes not safe for work fun and each episode makes you wonder "What if?" Lots of talented and funny folks all around.
And of course, I gotta plug Jon Shefsky. I spend a lot of time listening to Jon Shefsky. He's funny imaginative and riffs in his sleep. I help out some behind the scenes duties.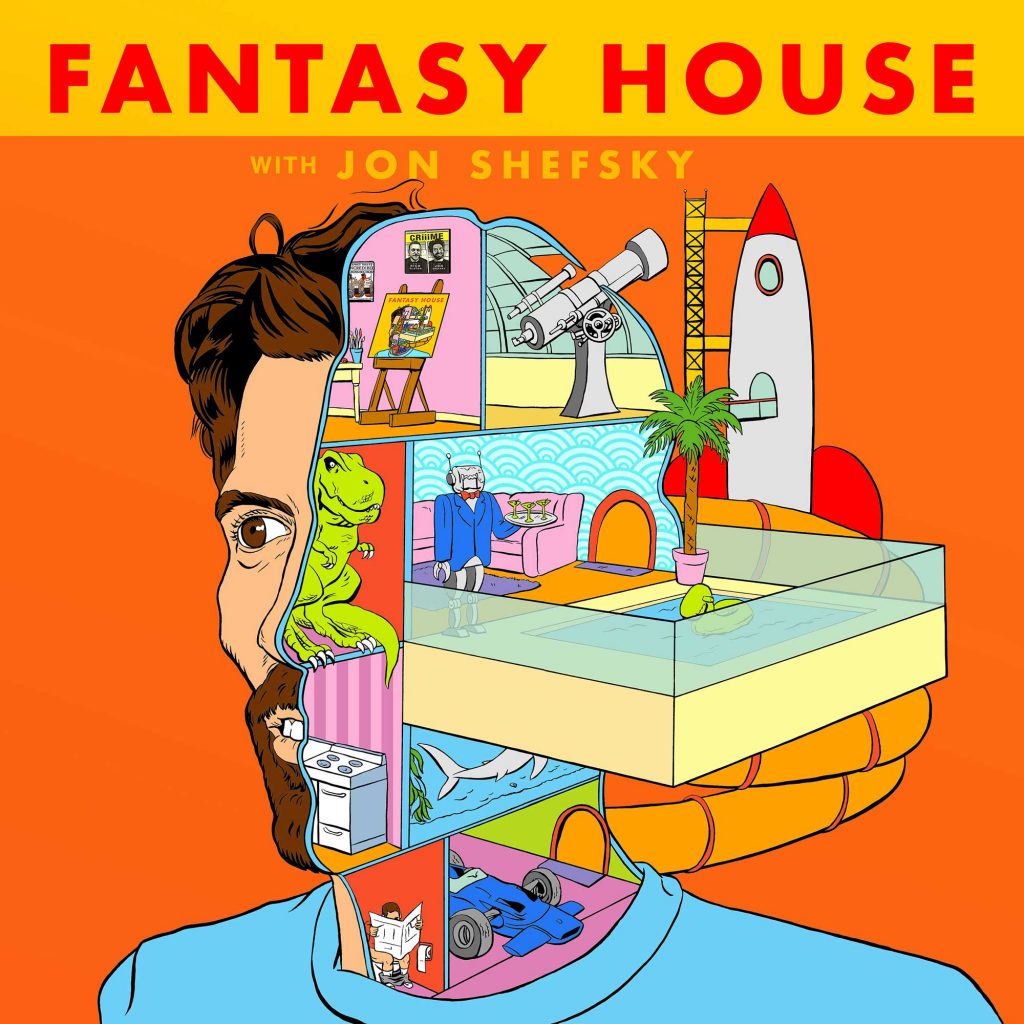 So what's next? What's the end game?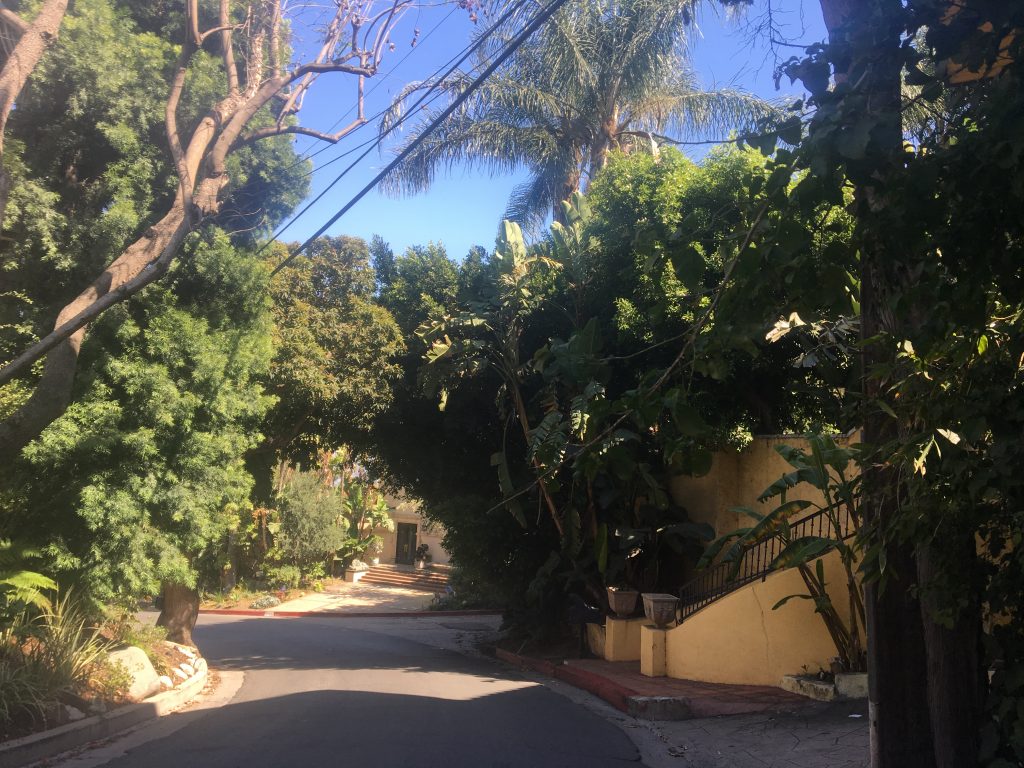 I don't know? That would imply the fun ride would end. I must be doing Hollywood wrong, because I'm enjoying this ride.